Patriots edge Bulldogs in Tribune Tournament consolation championship
By Bernd Franke, The Tribune, October 16, 2016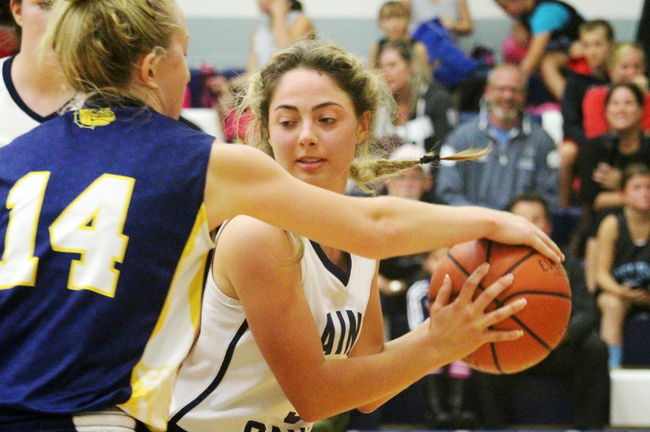 Fourth-seeded Saint Paul didn't let the disappointment of a first-round upset at the Tribune Girls Basketball Tournament linger all that long.
Though a two-point loss to the E.L. Crossley Cyclone in the qualifying round bounced the Patriots out of contention for a gold medal, they did the next best thing by winning the consolation championship. Lauren Dempsey scored 19 points and Juliana Camisa added 10 as Saint Paul defeated the Sir Winston Churchill Bulldogs 49-46 Saturday night at ecole secondaire catholique Jean Vanier in Welland.
Patriots head coach Colin McLeod used the four-day, 16-team tournament as an opportunity to give everyone on the team playing time."I'm glad they all got a chance to play," he said. "We came here to work out and have fun, and that's what we did."
Saint Paul rebounded from the loss to Crossley by defeating the Grimsby Eagles 54-51 in the quarter-finals and the Governor Simcoe Redcoats 37-25 in the semifinals to clinch a berth in the consolation championship.
"It's a little disappointing we didn't get to play for the gold, but we all came together as a team and played well tonight," Susan Leone said.
The Grade 11 student said the experience of competing in the double-elimination tournament will help the Patriots when they resume league play and prepare for the playoffs.
"We learned the importance of keep doing your best and to keep pushing hard," she said.
The B title was the first for the Patriots, who won the overall championship in 2008 and lost to the Notre Dame Fighting Irish in last year's title game.
Kaley Demont and Natalie Weber contributed 20 and 19 points, respectively, for a Bulldogs team that took the court in the senior high school showcase with only one senior – Weber, a Grade 11 – in its nine-player lineup.
"You could say we have a lot of pups on the court, but they all have bite," quipped Bill Huizer, a math teacher at Churchill and the team's faculty advisor.
Huizer was on the bench assisting Sue Sentance who took over for head coach Frank Keltos who was away attending a coaching clinic.
"We let them play and they played well. They executed all the plays on their own," Sentance said.
Weber credited Sentance for doing a "great job" stepping up and filling in for Churchill's top 'Dog.
"She said all the right things. We played well together as a team," Weber said.
The Bulldogs advanced to the B final with victories over the Port Colborne Blue Bears, 46-43; and Lakeshore Catholic Gators, 64-58, in overtime; after suffering a 42-36 setback to the A.N. Myer Marauders in Wednesday's qualifying round.
Churchill's only Tribune Tournament title on either side of the bracket was a consolation championship in 2008.
This email address is being protected from spambots. You need JavaScript enabled to view it.